On the 20th of December 1943 after bombing the Focke-Wulf aircraft factory in Germany, A B-17 Flying Fortress piloted by Charlie Brown was seriously damaged after being attacked by the Luftwaffe and flak. It had been almost completely destroyed; the rear gunner was killed.
A Messerschmitt 109, piloted by Franz Stigler was refuelling whilst the incident took place. Stigler spotted the wreck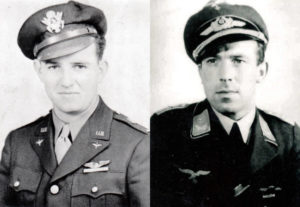 of a plane and took off. When he was close enough to see the extent of the damage and injured crew, he flew alongside the B-17 until they reached the North Sea. Both Stigler and Brown survived the event. Stigler's actions proved that even in wartime, Christmas compassion still shines through.
The two pilots finally met in 1990 and became close friends, and remained that way until their deaths in 2008.